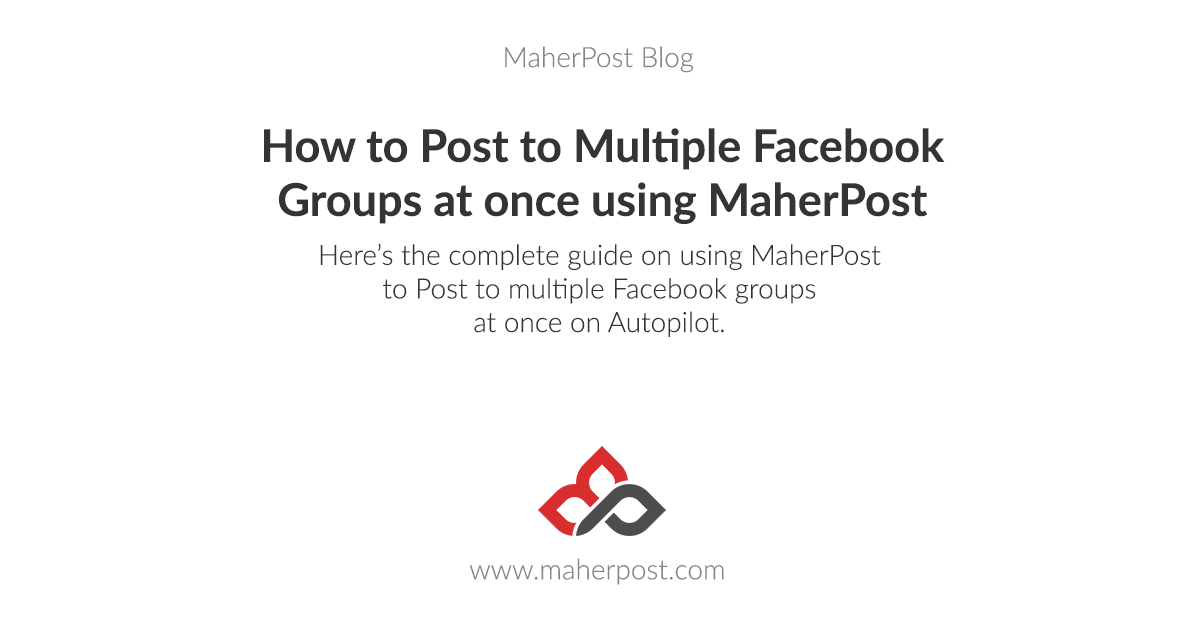 Read this article for the step-by-step guide on how to post to multiple Facebook groups at once on autopilot. We have made this guide as clear as possible, So even the non-tech-savvy of people can understand how to post to all their joined groups easily with the help of MaherPost Facebook Auto Poster Tool.
Before you can start posting to MaherPost, Make sure you have done the following:
Reading the guides provided above and following the instructions will ensure you have created MaherPost account, added your Facebook account to the app and took care of other things like timezone and post settings.
What is MaherPost?
MaherPost is the Facebook Group Posting app that has helped countless people with Facebook marketing without spending hours posting to Facebook Groups.
MaherPost was founded in 2011 and serving the people since. MaherPost has helped many businesses achieve huge success just by using the app.
The possibilities are countless. Whether you are a web developer, blogger, provide online services or own a small business offline, Facebook groups can help you get your business to your targeted audience without paying thousands of dollars in the process.
With MaherPost, you can auto join groups related to your business, then auto post to them one by one and get your message to the vast majority of people in those groups.
MaherPost saves you countless hours posting yourself and with the ability to add delay, and other safety features, you don't run the risk of getting blocked from posting.
It is the most intelligent Facebook Group Poster and we are proud to have helped many businesses reach new heights of success using our app.
Here is the tutorial on how to use MaherPost to post to Facebook groups, the right way:
Post to multiple Facebook groups, step-by-step:
Adding your message/link/picture
To start scheduling your posts to Facebook, the first thing you have to do is to add the message, link, picture or video you wish to post. Open MaherPost dashboard and add whatever you want to post by going to its tab.
By default, you'll see message tab open. If you wish to post link/image/video, click on the respective tab buttons.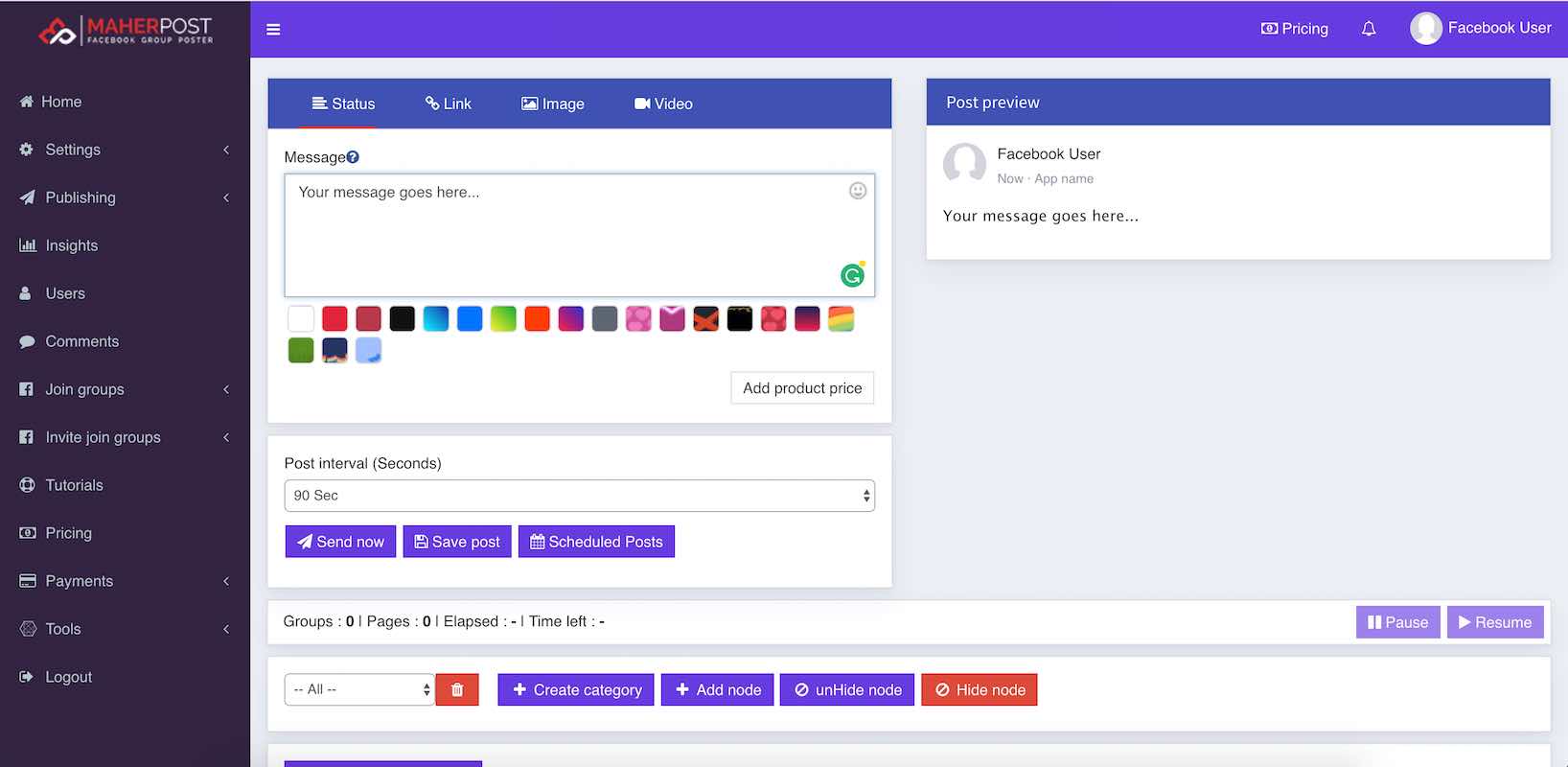 Selecting Groups to post to
Once you have added your message info, the next thing to do is selecting groups to post to. Scroll down to the page and you'll see the groups area.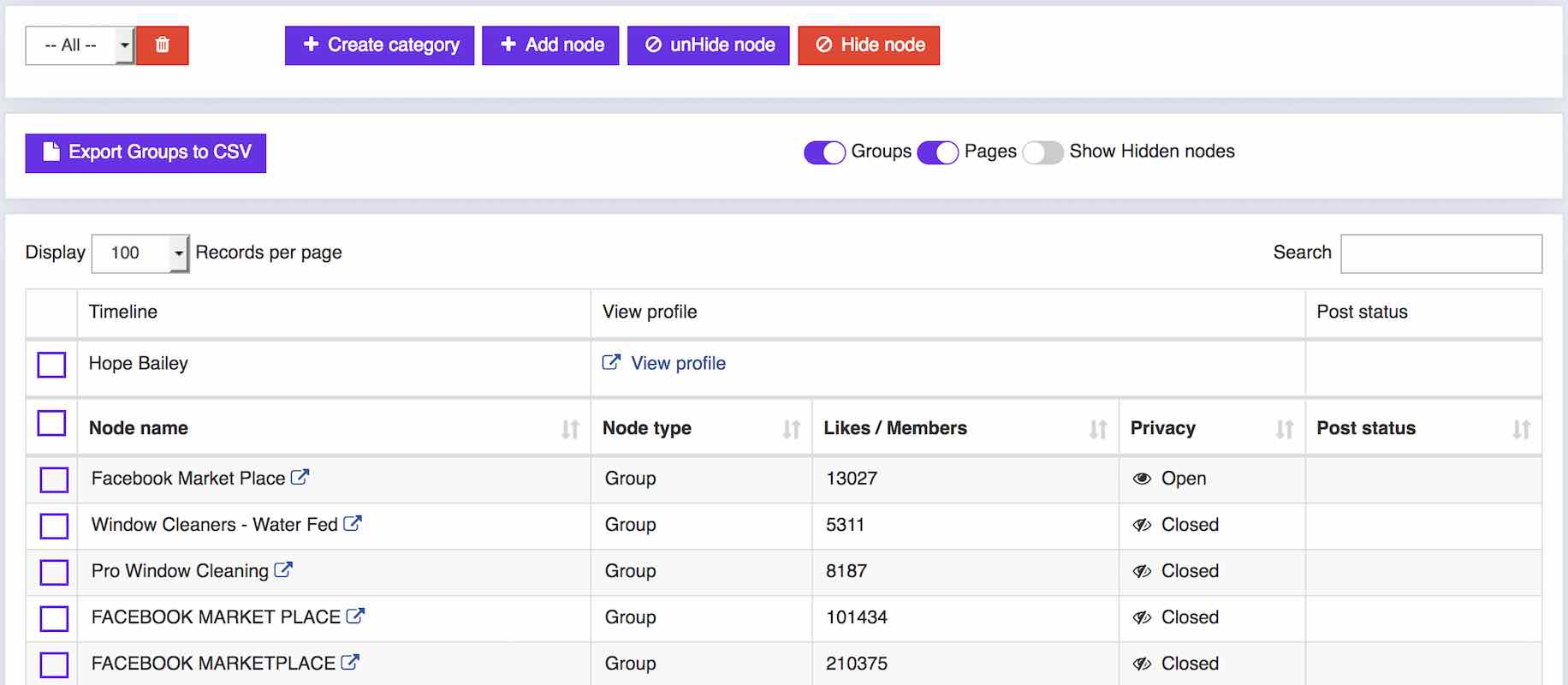 As you can see in the image above, You can show/hide Groups or Pages by clicking the radio buttons. So if you just want to post to groups and don't want to see Pages in the list, Click on the button and it'll get greyed out and you'll only see your groups.
Now, You can start selecting all the groups you want to post or click on the main checkbox to select all groups. Once you start selecting groups, You will see the following data on how many groups and pages you have selected:

Always check that before posting, So you're sure how many groups and/or pages you're posting.
There is also an option to create categories of groups. So you can create categories of the different topic of groups and load them later so you don't have to search for them and select individually every time.
Post now or Schedule
You have added your message and selected the groups to post to. Now you have to post that message to Facebook. We have two options for posting the message. One is Post now and the other is Schedule.
We're going to talk about both in details.
Using Post now for posting:
With MaherPost's Post now option, Your posts will be sent out right away and you can see live progress in your browser window.
With Post Now, you have to leave MaherPost App Window open on your browser for it to work.

As seen in the image above, For using Post now option, you just have to select post interval you wish to use and Click send now.
What's Post interval: Post interval is the time delay between each post. If you are posting to 20 groups and selected 300 seconds of time delay, Your message will be posted to each group 300 seconds (5 minutes) apart. So it'll post to one group, then wait 5 minutes and then post to the second group and so on.
We recommend selecting 600-900 seconds of time delay when using Post now.
Using schedule for posting:
With the schedule option, you can schedule your posts to be sent out to the groups at your chosen time.
The schedule option works on autopilot. You just schedule your posts and quit the app and it'll post to the selected groups at the selected time automatically.

We recommend everyone to use Schedule option for posting to multiple Facebook groups at once as it's most effective and safe option to use.
To schedule a post, Click Scheduled posts button and it'll open the schedule options as the image below: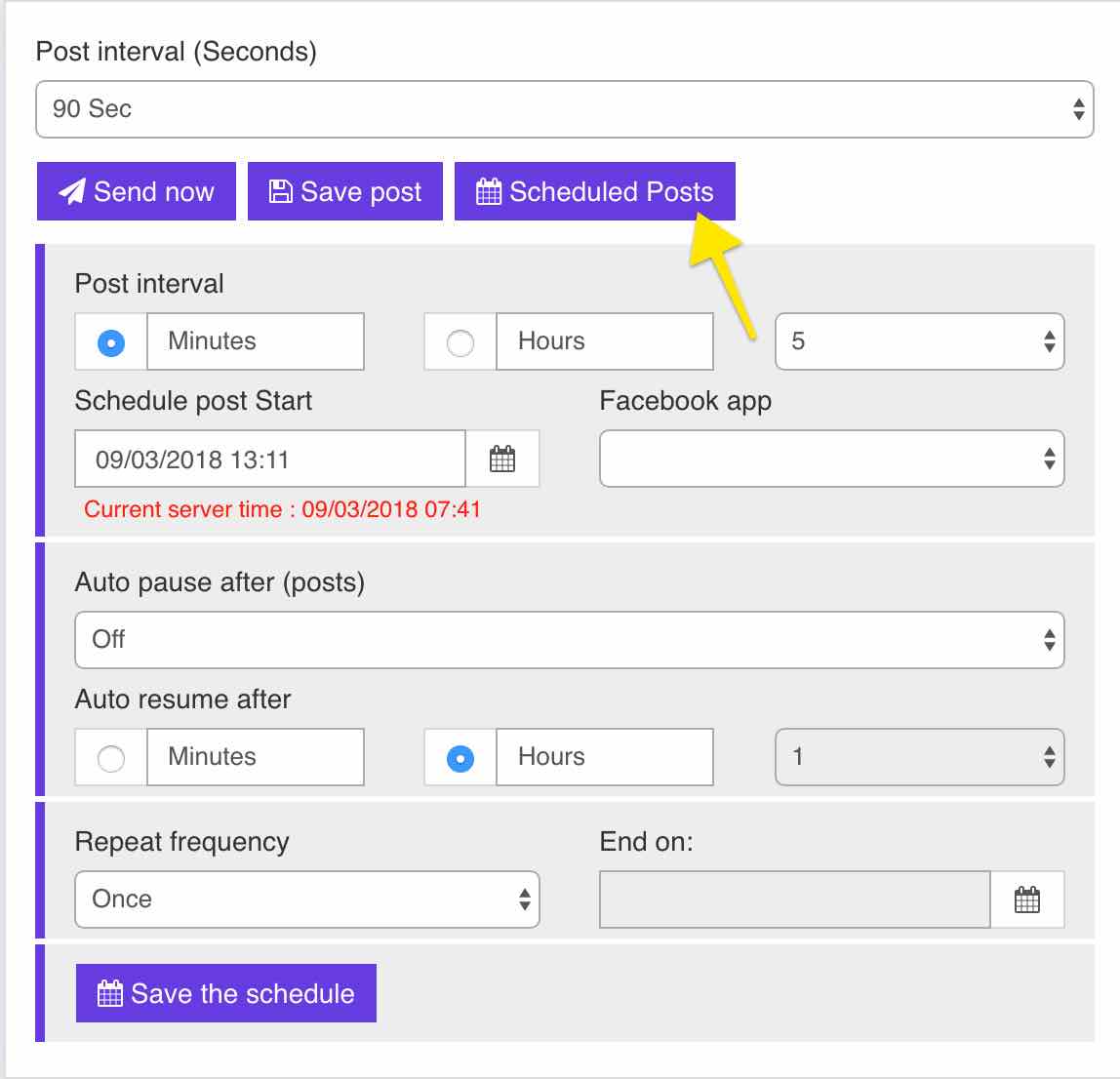 To schedule your post, here are the options you need to change/use on this window:
Post interval: As mentioned above, Post interval is the delay between each post. Your posts will be sent to each group by 'X' minutes apart. (X is the post interval you chose)
We recommend using 10-15 minutes of delay. If you're posting to groups of multiple Facebook groups, you can use lower time delay as they won't send all posts to same account.
Schedule post start: Here, select the time you want your schedule to start. You can choose any date and time here. Make sure the "Current server time" matches your time. If it doesn't, Change your timezone settings.
Auto pause after (posts): With this feature, you can choose to auto-pause the schedule for selected minutes/hours after it reaches selected posts. You don't have to use it necessarily.
Repeat frequency: With this feature, you can choose to repeat the same post on same groups every X days.
For example, Say you have a message you want to post to all these groups every Saturday. So you schedule the post by adding Saturday's date and time and then in Repeat option, Select every 7 days. It'll post to those groups every Saturday until it reaches the 'End on' time you chose.
Once you have selected all options, Click on Save the schedule button and you're done.
Note: You need to save the post before you can create a schedule.
You can see your scheduled posts in Publishing > Scheduled posts and the posting log on Publishing > Schedule logs.
So that's it. You have scheduled your posts to multiple Facebook groups using these methods!