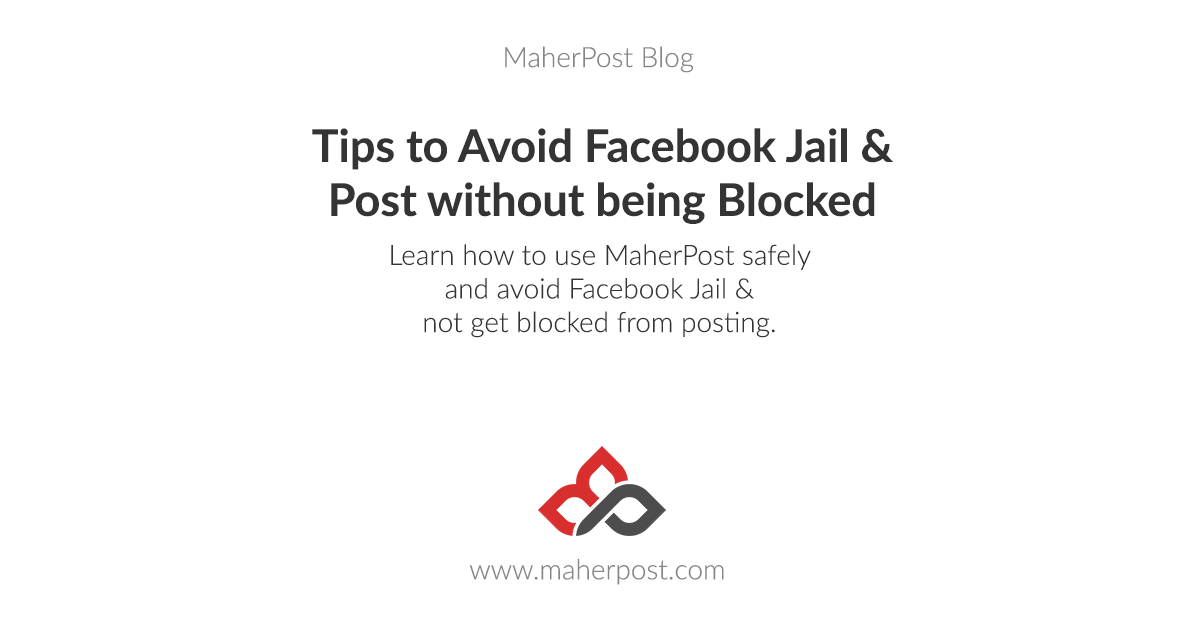 What is Facebook Jail?
Facebook jail is a term used when Facebook suspends your account's ability to post to groups or any other features for a few days.
There are two kinds of blocking; one is permanent and the other is temporary.
In the case of permanent blocking, the user is blocked permanently and he or she cannot access his or her particular service or account again in any way. Permanent blocking is particularly for spammers as well as hackers who try to play with the Facebook security.
On the other hand, temporary blocking would disable one's account or a service for a certain period of time. The account or the service can be accessed again after the restriction removes.
To exemplify, if anyone posts unnecessary or offensive things in groups or posts too much, the user might be blocked for posting new things in future and such restriction would last for some days (Maximum of 21 days to be exact).
How long does Facebook Jail Last?
Facebook jail will last just a few days and after that, you'll regain control of your postings. Facebook Jail lasts for 21 days maximum. 
Your account won't get blocked from posting for more than 21 days. Usually, it's 3-7 days, But can be up to 21 days.
How to Avoid Facebook Jail & Post without being Blocked
Here we are sharing the best practices you should keep in mind to prevent your account getting blocked from posting to groups and avoid Facebook Jail.
Update your Facebook Profile
Having half-setup profile will always flag your profile as not complete. If you post to lots of groups through a profile which is not up to date, it could make Facebook believe that you're only using your account for posting to groups and that'll be seen as spam.
So you should make sure to have your details are up to date and that you have added all info to about page and on the profile page.
Verify your Facebook Account with Mobile
This is an obvious one. The only verification of your existence that Facebook has is your mobile number. If you connect your mobile number with Facebook, they will know that it's a genuine person and not some fake account.
If your account is not verified by mobile and email, it'll surely make it difficult to post to groups without being blocked for spamming.
So before you do anything else, add your phone to your Facebook account and verify it.
Post to Groups with Time Interval
Posting the same content on various pages or groups at once can be marked as spam. It might throw the user in Facebook Jail.
The trick to avoiding "imprisonment" is leaving at least some minutes between every post. If a user is pushed for time and simply have to get the work done right on time, then he or she can basically schedule posts minutes, days, hours or also long in advance.
Posting at an alarming degree to the Facebook page, your facebook wall or groups can bring your active account under scrutiny. The Longer will be the time in between the post, lesser will be the chances to throw in the Facebook Jail.

MaherPost has made this aspect much easier by rendering the option to schedule your posts and adding time interval.
You can schedule your post to be posted at the time you want on AutoPilot with the help of MaherPost Facebook Auto Poster. You can post new messages to groups right away live on your computer or schedule them to be automatically posted at the desired time.
The Post interval is a very useful feature. You can set the time interval from minutes to hours. Once you select a post interval, your posts will be sent to each group based on the interval you selected.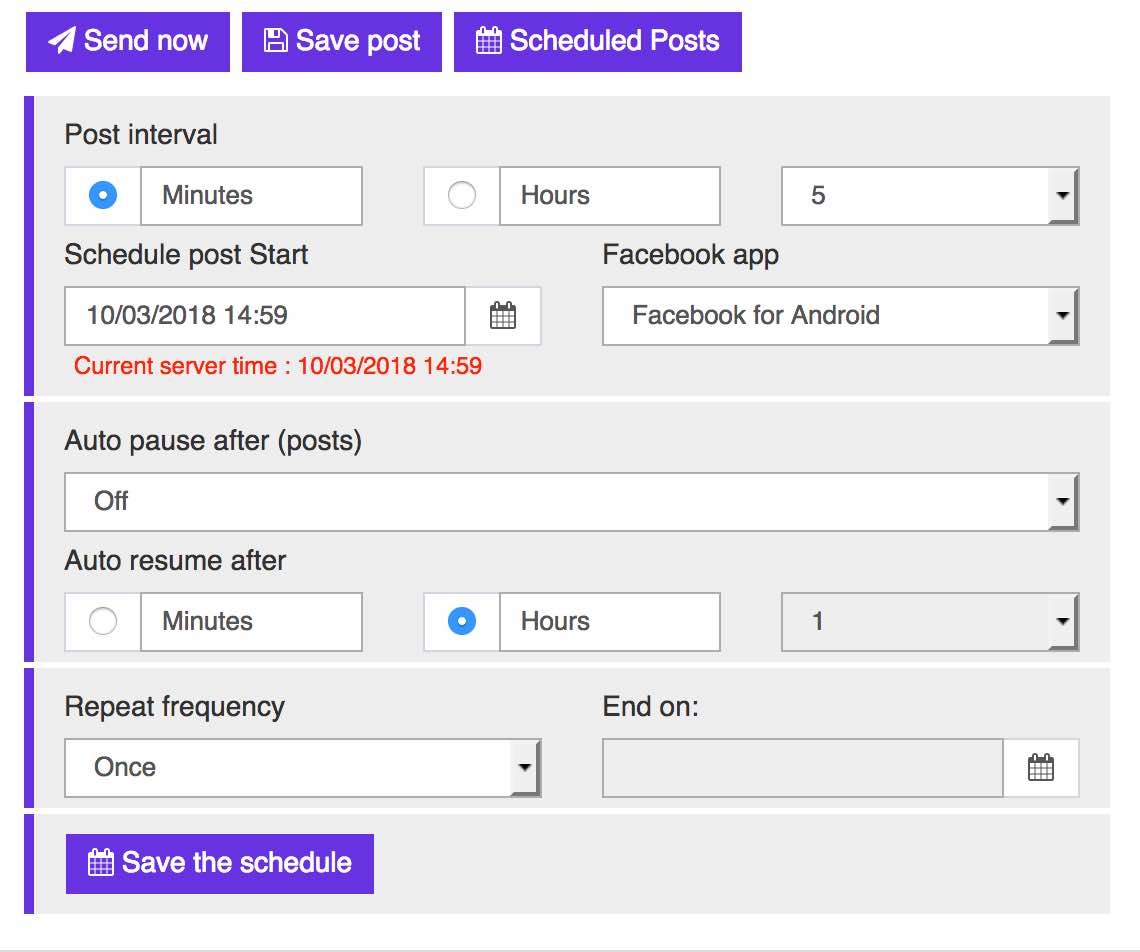 As you can see in the image above, We also have the Auto pause feature on MaherPost. By using that, You can choose to pause the posting for the selected time after selected numbers of posts are sent out.
For example, You can select "20 Posts" on Auto pause after and choose "20 minutes" on Auto resume after. So once the app has posted to 20 groups, it'll pause for 20 minutes and then try the process again. And pause for 20 minutes after another 20 posts and so on.
Using all these features together will ensure that your posts are sent out at regular intervals without being flagged as spam by Facebook. So make sure to use them everytime you post.
Don't share Spammy or Abusive content
There are several activities that Facebook prohibits on their platform and in spite of having a giant size of social media, it is monitored closely.
The prohibited activities include sexually suggestive content or nudity, SPAM, credible threat or hatred speech or direct attacks on groups or individuals, self-harming content, imposters or fake timelines.
Before sharing content of someone else's post, image or links, make sure they are not seen as abusive by other users.
Always refrain from sharing content that is prohibited by Facebook or the content which will be marked abusive by other users.
Besides this, You should always try to post original content only. Because that will make them look fresh to Facebook and also won't be flagged as spam by other users. Original content shows Facebook and other users that it's a genuine service/site and will build trust among users.
If you provide a certain offline service to other users and group members, Instead of copying text/image of someone else's business, try to write your own text and create/use your own image that is original.
Use MaherPost feature to make your content unique
The Facebook spam detector bans the accounts which violate their pre-set rules. Understanding the vital part of this rule, MaherPost is designed with plenty of features for avoiding Facebook jail and account bans.
With two options, you will be able to post unique content to all Facebook groups you are posting to. The first option is to allow Unique Post and the second one is Unique Link.
With Unique Post, MaherPost will automatically add a random short code to all your posts so all posts are seen as unique by Facebook and they won't notice that you're posting the same message over and over again.
The Unique Link, Is the same feature as the unique post. Where MaherPost will add a random code at the end of your links. That won't change the destination of your posts but will make your posts unique. And Facebook won't notice you posting same links all over.
Note: Don't use Unique link if you're posting short links from goo.gl or any other URL shorting service.
To learn more about this features and how to activate them, Visit this link: Steps to do before creating a post on MaherPost
Use Multiple Accounts to Post instead of Just one
This is a very important one. If you keep posting to the groups from the same account, you won't be able to reach as many people and if you go overboard, that'll just land you in the Facebook Jail.
Facebook actually has no particular number of groups one could push post every day. But it flags the account which overdoes it. While posting to 500 posts regularly with one Facebook account, it clearly depicts that you are either trolling or spamming.
Let me try to explain further. We recommend you post to maximum 50 groups per account per day. You can definitely go and post to 100+ groups from one account as well, But 50 is the safe spot.
But posting to just 50-100 groups won't get you the best exposure on Facebook, So what do you do?
Simple, MaherPost allows you to use multiple Facebook accounts and post to all of them from the same dashboard. So you can connect 5-10 or more Facebook accounts with your MaherPost account and post to groups of multiple Facebook accounts.
In reality, it won't be possible to post manually to more than 500 groups in one day without taking notice of you by facebook police.
So with that, If you post to 50-100 groups with 5-10 accounts, You can reach 500-1000 groups without being flagged as spam or landing in Facebook jail.
Note: With MaherPost Basic, Plus, or Professional plan, you can use the app with 1, 3, and 7 accounts respectively.
Utilize the benefits of MaherPost Auto Comment
MaherPost has a special Facebook Auto Comment feature which will let you bump your posts always to the top of every group rather than keep posting similar content all the time.
To comment is safer than posting similar content every time. You just need the approval of one of your posts by a group administrator and after this, you can continue to bump this specific post every day and it would be getting to the groups top all the time.
To learn about how to use auto comment and bump your posts, Visit Configure Facebook Auto Comment on MaherPost (& Bump Your Posts!)
Don't do all at once!
MaherPost will allow you to run multiple works like Comment, post, Invite friends and Join groups. If you prefer to run all these actions, you are advised to pause one after another.
If you possess a running post schedule and want to do a comment bumping, it is better to either pause or enables the post schedule to complete running. This is because multiple actions running at the same time can trigger the Facebook spam system.
Give your posts a Fresh Look!
If you have a plan of running a marketing campaign on facebook groups, it is recommended to change the photo and shorten the URL if possible after some batches of a specific post.
It will offer your post a fresh appearance. It will render your post much more clicks as well as make it appear fresh to the spam detection system of Facebook.
As you already know that Facebook records all your works on their system, hence, it becomes your responsibility for making your post look real as much as possible.
The new MaherPost app even has a feature of a live preview of the post. This feature will let you see the live preview of how the post would look like after it is posted. This will give you an idea and you will be able to modify or alter as per your choice or needs.
Take a Hint!
If some groups are not allowing your posts to go through and if the admins of some groups are disapproving all your posts, You should stop posting to those groups. If you keep posting to groups which won't approve your posts and rather flag them as spam, there are high chances of your account being blocked.
Besides that, You should also make sure not to post to competitors pages. You might think that'll get your business in eyes of competitor's fans, But trust me, that won't be the case.
Because the competitors will mark your post as spam as soon as they see your posts and if too many posts are marked as spam, you will land in Facebook Jail.
And that's it. If you want to avoid being thrown into Facebook Jail and being blocked very often, Take a note of above points and make sure to keep them in mind when posting to Facebook groups and pages.